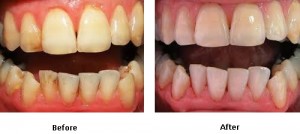 Our AirFlow treatment is designed to remove simple tooth staining caused by red wine, tea, coffee and smoking. Although this treatment is not a tooth whitening therapy, the AirFlow will significantly improve tooth brightness and give you a noticeably sparkling fresh healthy mouth in an instant.  This can be significantly enhanced by tooth whitening.
What is AirFlow polishing?
Airflow polishing is a new hygiene cleaning treatment that uses a mixture of air, jet water and fine powder to polish and clean your teeth dramatically. This treatment is not a chemical treatment and therefore there will be no risk to the patients for any irritation or chemical burns. Airflow polishing is an advanced version of a scaling and polish treatment for stain removal allowing you to walk away the same day with amazing, clean results.